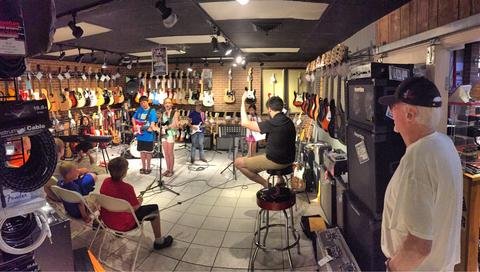 We offer music lessons for all levels, from beginner to pro. It's a proven world-class curriculum using the leading music education material from Hal Leonard. 
Get private one-on-one instruction from experienced, academically educated, professional, fun musicians.  Learn guitar, piano, bass, drums, ukulele, vocal, violin, cello, banjo, mandolin, recording.  Explore any genre, from rock, country, metal to blues, classical, bluegrass and jazz.  Take advantage of flexible scheduling and walk-in clinics and workshops.
We find a time that fits your schedule and that's your time each week.  If you miss a lesson we will do our best to find a time to make it up.  We can't roll over lessons to the next week.  If you need to change from week to week, we will do our best to make it work.  Lessons are available starting at 10 am through lunch and into the evening.  You pay for a month in advance.  Each 30 minute private lesson is $20 so a typical 4 week month would be $80.  Auto draft is available for a flat rate of $80 and you will get any 5th lesson free!
For accuracy, all scheduling is done over the phone or in store.  Call us for more information at (870)932-7529.